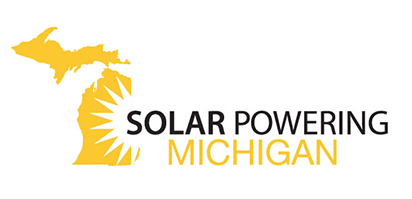 Solar Powering Michigan Conference
Thank you to all who joined us Friday, September 12th, 2014 for Solar Powering Michigan at Northwestern Michigan College's Hagerty Conference Center in Traverse City, Michigan.
BRINGING PEOPLE TOGETHER
Solar Powering Michigan will engage utilities, policy makers, lenders, developers & contractors, local governments, and training & workforce development professionals to help them define opportunities in the solar market and access resources and networks to advance projects.
TO GROW SOLAR IN MICHIGAN
Topics covered at the conference include project finance, shared solar, PACE programs, state and utility programs, permitting and interconnection, Michigan Renewable Portfolio Standard (RPS), storage and demand response, third party ownership, local market development and workforce training.
AGENDA.
The Solar Powering Michigan Conference agenda is packed with an energizing mix of large-group speakers, breakout sessions, regional and national keynotes and networking time. Visit the agenda page for more information.

LOCATION.
Northwestern Michigan College
Hagerty Conference Center
1715 E. Front St.
Traverse City, MI 49686

TRAININGS.
We will be offering a number of pre & post conference trainings for solar installers, educators, inspectors and more! Please visit the Solar Powering Michigan conference training page for more information.
PRESENTED BY.
Northwestern Michigan College has provided training in energy efficiency, construction technology, green building, and renewable energy. Our programs are affiliated with the Midwest Solar Instructor Training Network, the MREA, the GLREA and (NABCEP)

break

The Midwest Renewable Energy
Association promotes renewable energy, energy efficiency, and sustainable living through
education and demonstration.

break


The Great Lakes Renewable Energy Association is a statewide nonprofit organization that educates, advocates, and promotes renewable energy.

break
CONFERENCE PARTNERS.