Minnesota Solar Power Hour Series – Summer 2017
Join us for a free education session about solar energy options in Minnesota! This summer, the Midwest Renewable Energy Association is partnering with municipalities and neighborhoods around the state to provide information on solar energy to residents.
Topics will include residential solar, community solar, and solar for your business. We'll discuss financial considerations, available incentives, and how to go about selecting the right installer. Find out what you need to know to get started.
After the presentation, there will be opportunity to talk with partnering solar installers and community solar developers about your specific questions.
Here's what we'll cover:
Solar for your home or business
Community solar
Cost comparisons & available incentives
Energy efficiency improvements
Financing options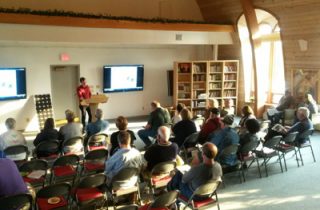 Event dates (stay tuned – more to come!)
Tuesday, June 13, 7:00 PM – SHOREVIEW, MN – Shoreview Community Center, 4580 Victoria St. N.
Wednesday, June 28, 6:30 PM – ELK RIVER, MN – Elk River Public Library, 13020 Orono Parkway
Wednesday, July 12, 7:00 PM – MAPLEWOOD, MN – Maplewood Community Center, 2100 White Bear Ave.
Wednesday, July 19 7:00 PM – INVER GROVE HEIGHTS, MN – City Hall, 8150 Barbara Ave E.
Thursday, July 20, 7:00 PM – EDEN PRAIRIE, MN – Community Center – 16700 Valley View Rd
Wednesday, July 26, 4:00 PM – MINNEAPOLIS, MN – Insight Brewing, 2821 E Hennepin Ave
Monday, August 28, 10:00 AM – MN STATE FAIR – 1265 Snelling Ave North, St Paul, MN
PARTNERING SOLAR INSTALLERS

The following Minnesota-based installers have been selected in a proposal-based process to meet high standards for quality and competitive prices.
Able Energy Co.
Phone: (612) 913-4812
Email: info@WeKnowSolar.com
Website: http://weknowsolar.com
Address: 7200 Hudson Blvd., Suite 290, Oakdale, MN
All Energy Solar
Phone: (651) 842-9400
Email: info@allenergysolar.com
Website: http://allenergysolar.com
Address: 1642 Carroll Ave, St Paul, MN
Live Wire
Phone: (612) 492-1070
Email: paulr@livewireguys.com
Website: https://livewireguys.com
Address: PO Box 207, Saint Francis, MN
Solar Farm
Phone: (651) 271-8410
Email: james.darabi@solarfarm.com
Website: http://solarfarm.com
Address: 2355 Fairview Ave #101, St. Paul, MN
TruNorth Solar
Phone: (612) 888-9599
Email: Info@TruNorthSolar.com
Website: http://trunorthsolar.com
Address: 5239 Edina Industrial Blvd, Minneapolis, MN
THANKS TO OUR EVENT PARTNERS