SOLAR POWERING THE MIDWEST CONFERENCES
Looking for past event presentations? Click here.
The Grow Solar team is working hard to provide educational opportunities on ways to reduce the costs of solar for municipalities, state employees, solar industry professionals, university employees, non-profits, utilities, authorities having jurisdiction (AHJs), developers, installers, legal and policy stakeholders, and elected officials.
The Midwest Renewable Energy Association (MREA) and the Midwest Grow Solar Partnership are launching their fifth state-level conference in Cedar Rapids, IA.

March 24, 2016
The Hotel at Kirkwood Center
Cedar Rapids, IA
BRINGING PEOPLE TOGETHER
Solar Powering Iowa will engage utilities, policy makers, lenders, developers & contractors, local governments, and training & workforce development professionals to help them define opportunities in the solar market and access resources and networks to advance projects. The conference will be packed with an energizing mix of large-group speakers, breakout sessions, regional and national keynotes, and networking time.
AND BUILDING CAPACITY
With a full day of professional training on Wednesday, March 23rd, participants can earn Continuing Education Credits while learning about PV system design, National Electric Code updates, PV system inspection, PV Sales and Finance, and a suite of product-specific trainings.

TO GROW SOLAR IN IOWA
Strengthened net metering rules, third party ownership, solar-ready communities, shared solar, on-bill financing for efficiency and renewables, utility solar deployment, the Clean Power Plan…Join us in discussing how homes, businesses, communities, and their utilities can take advantage of these opportunities to grow solar in Iowa.
CONFERENCE FEES & REGISTRATION.
Space is limited so register today and reserve your spot at the Solar Powering Iowa Conference!

*MREA Members Receive 10%, Sign Up Today and Select the Member Rate at Registration!
MREA Members receive great benefits like free entry to The Energy Fair, discounts on MREA courses, and more!

KEYNOTES.

Holmes Hummel
U.S. Department of Energy – Office of Policy & International Affairs

Holmes Hummel is the founder of Clean Energy Works, which connects champions of renewable energy and energy efficiency with resources that accelerate investment in clean energy solutions. Dr. Hummel also serves on the board of Cleantech Open, the world's largest accelerator built to find, fund, and foster the most promising cleantech startups. In addition, Dr. Hummel is on the board of Cornerstone Capital, an investment management firm that is among the world's leading voices in the field of sustainable investment and finance.
In 2009, Dr. Hummel was appointed as the Senior Policy Advisor in the U.S. Department of Energy's Office of Policy & International Affairs, serving through 2013. In that capacity, Dr. Hummel advised on energy policy deliberations on a wide range of topics including energy finance, climate policy, workforce development, and leveraging federal support for state and local clean energy policies.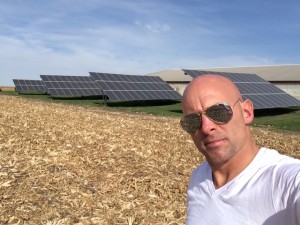 Tim Dwight
Integrated Power Corporation – Owner
Iowa Solar Energy Trade Association (ISETA) – President

Iowa native, NFL alum, and renewable energy advocate, Tim Dwight has paved his way into being an influential local solar industry leader. After 10 years in the NFL Dwight wanted another challenge, and a new career and the energy industry has provided him that opportunity. He currently owns and operates Integrated Power Corporation. Integrated Power is a solar EPC firm based out of California, that performs business with commercial, industrial, and utility customers.
Dwight is also the president of the Iowa Solar Energy Trade Association, a professional organization dedicated to excellence in safety, quality of workmanship, and technical standards for the benefit of the PV industry and its clients in the state of Iowa through public policy, public relations, and education.

PRE-CONFERENCE TRAINING.
Wednesday, March 23, 2016
Advanced and introductory solar training is now available. Learn more today!

CONFERENCE AGENDA & PRESENTATIONS.
Thursday, March 24, 2016
Conference tracks are now set. View the agenda today!
LOCATION.
The Hotel at Kirkwood Center
7725 Kirkwood Boulevard SW
Cedar Rapids, Iowa 52404
(319-848-8700) or (877-751-5111)
A block of rooms has been reserved at the Hotel at Kirkwood Center. Please reference the 'Solar Powering Iowa Conference' when booking. If fully booked, please contact Best Western, Cedar Rapids to reserve a room in the 'Solar Powering Iowa' block: 319-377-6386.
CONFERENCE PARTNERS.