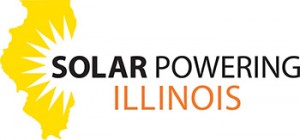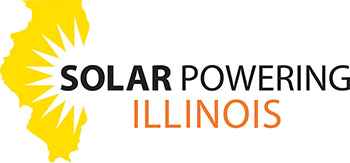 Solar Powering Illinois worked to engage utilities, policy makers, lenders, developers & contractors, local governments, and training & workforce development professionals to help them define opportunities in the solar market and access resources and networks to advance projects.
CONTINUING EDUCATION.
The Solar Powering Illinois conference has been approved for 3.5 hours NABCEP CE (non-technical category) for PV Installation Professional, PV Tech Sales, and Solar Heating Installer.
See below for the full agenda and to download speaker presentations. Note: All presentations are for personal use only. They are copyright protected by their authors and should not be reproduced or used without the speaker's consent.
AGENDA.
8:00am-9:00am – Registration, Breakfast & Networking

9:00am-10:15am – Welcome and Morning Plenary
10:45 – Noon – Morning Breakout Sessions
Commercial Solar Success
Looking to make your commercial solar project financeable? From critical design elements to partnerships and contracting, speakers in this session will lay out the steps for commercial project success and showcase a recent 500kW installation by the Illinois Rural Electric Cooperative.
Opportunities in Shared Solar
With the potential to decrease the cost of solar, provide access to new markets, and give electric utilities a new business opportunity with customers, shared solar is rapidly expanding across the country. This session will provide a national perspective on shared solar models and successes and showcase the experience of a Midwest electric cooperative that recently launched a shared solar program for their members.
IL Solar Technical and Economic Potential
Recent statewide research into the technical and economic potential of solar PV shows that Illinois has the ability to be a national leader in solar market development, creating in-state jobs and reducing energy imports. Hear first-hand from report researches about current market opportunities.
Community Strategies for Market Development
With support from the National Science Foundation, US Dept. of Energy, and Illinois Green Economy network, national, regional, and local partners are coming together to help Illinois communities go solar. This session will describe the innovative Power Pack Program and outline opportunities for contractors, manufacturers, municipalities, lenders, and community colleges to get involved.
Noon – 1pm Lunch

1:00pm-2:15pm Afternoon Plenary
Welcome: Nick Hylla, MREA, Lesley McCain, ISEA, Stephen Bell, IGEN
Keynote: Dr. Elaine Ulrich, US Dept. of Energy, Solar Energy Technologies Office
Download Presentation

2:15pm – 2:30pm Break & Explore Exhibits

2:30pm – 3:45pm Afternoon Breakout Sessions
Solar Contractor Toolbox
IL Solar Contractors Toolbox: Installers need to juggle many details both on the roof and off. This session will focus specifically on the nuances of doing business in Illinois. We will cover tips on navigating Illinois incentives, registering with the Illinois Commerce Commission to become a certified installer and working with both public and municipal utilities on net metering and interconnection requirements. In addition, many communities and homeowners associations have their own rules for permitting and approving solar in their communities and we'll provide a few tips for successfully navigating these efficiently.
Illinois Renewable Portfolio Standard
Requiring 25% renewable generation by 2025 and including specific requirement for solar and distributed generation, Illinois has one of the most aggressive renewable portfolio standards of any state in the US. However, the changing generation landscape in Illinois has showcased the inadequate design of the current standard, leaving it ineffective in supporting the growth of in-state renewable energy generation. This session will address the state of the Illinois RPS and current legislative efforts to improve the standard.
Illinois Solar Job Market Potential
National and statewide research has shown that nearly 100,000 Illinois workers are employed in clean energy jobs with the sector being one of the fastest growing in the US. In addition, supply chain studies show Illinois has a strong manufacturing base to support a growing statewide solar market. This session will showcase this research and define opportunities for employment and manufacturing growth in Illinois.
Solar in Municipal Aggregation
With 90 Illinois towns choosing 100% renewable power through municipal aggregation, municipalities and electric suppliers have an opportunity support the development of local solar generation. This session will define the benefits and opportunities for local solar development through community choice aggregation.
Networking Social
PARKING:
Parking is free and is located in Lot 14 (please see map). There are two electric vehicle charging stations located in Lot 14. The charging stations cost $2 an hour.
Need driving directions? You can find them here.
KEYNOTE SPEAKERS.

Dr. Elaine Ulrich, U.S. Department of Energy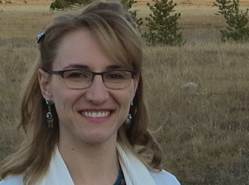 A native Coloradan, Dr. Elaine Ulrich began her physics career at Wellesley college and completed her Ph.D at the University of Arizona's College of Optics. A former AAAS fellow, Ulrich has spent her career working on renewable energy in the office of former senator Ken Salazar, the Science & Technology committee in the US house of Representatives, DOE's office of Strategic Planning and Analysis in EERE, and she served as the Sr. Legislative Assistant to Congresswoman Gabrielle Giffords, where she built a comprehensive solar energy portfolio. Ulrich currently manages the SunShot BOS-Soft Costs team which makes strategic investments in state & local development and technical assistance programs, information & data assets, finance, business models, permitting, installation, workforce & training, policy and regulatory programs. She also launched the NextGeneration Photovoltaics II, BRIDGE and GEARED programs in the Solar Energy Technologies Office at the US Department of Energy.
Mike Hornitschek, StraightUp Solar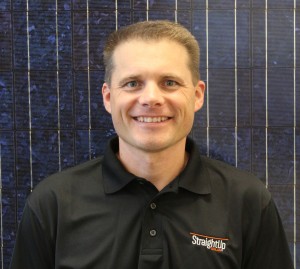 Mike joined StraightUp Solar in 2012 as Director of Strategic Development to help lead the company's exponential success from start-up to becoming the St Louis region's premier installer and beyond as solar evolves into a mainstream energy source.
Originally from Wisconsin, Mike is a 23-year Air Force command pilot and veteran who retired with his family in Belleville, Illinois, after serving as the installation commander for Scott AFB. An aeronautical engineer with degrees from the Air Force Academy and an NSF Fellowship at Stanford, he also holds a masters in international security studies from the Air War College. Mike is also an adjunct professor with McKendree University.
TRAINING.
Training opportunities will be offered before and after the conference. See options below and register to enhance your Solar Powering Illinois experience!