ABOUT SOLARIZE EAU CLAIRE
The City Of Eau Claire, Chippewa Valley Technical College, the County of Eau Claire, and the City of Altoona have partnered with the Midwest Renewable Energy Association to coordinate a solar group buy in the Eau Claire Metropolitan area (Eau Claire, Dunn, and Chippewa Counties). The advantage of a group buy is the power of volume purchasing, which can significantly reduce the up-front costs of installing solar on your home or business.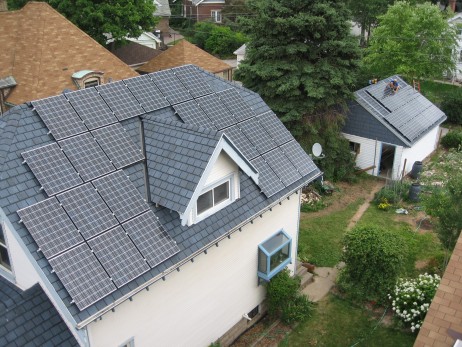 Dozens of solar group buys have been completed across the country in cities like Portland, Milwaukee and Chicago, and in states from California to Vermont. Common elements that lead to the success of these programs include competitive contractor selection, community-led outreach with a trusted community partner and a limited-time offering.
Competitive Contractor Selection: Solarize Eau Claire's advisory committee is comprised of representatives from City of Eau Claire government, Chippewa Valley Technical College, County of Eau Claire government, City of Eau Claire Sustainability Advisory Committee, City of Altoona, and the MREA. MREA issued a competitive request for proposals and the advisory committee selected a single proposal to help carry out the program. This gives customers get the simplicity of a single installer and the confidence that the selection was made from a number of competitive choices.
Community-Led Outreach: Solarize Eau Claire would not be possible without the strong support of participating counties and local organizations. Are you part of a neighborhood association, nonprofit organization, school or workplace that is excited about solar? Help us get the word out by distributing flyers or hosting a Solar Power Hour! Email  to get started.
Limited-time Offering: Nothing motivates people like a deadline. Participants have until September 30, 2019 to decide whether to go solar. Installations will take place throughout the program. The time-sensitive nature of the group buy adds urgency and helps bring the price down for everyone. How? Read on.
PRICING
The key ingredient for most participants is the pricing for the group buy. The competitive bidding process ensures Solarize Eau Claire achieves a price per watt lower than an individual would generally be able to get on the open market. In addition, the price comes down for everyone when certain benchmarks are surpassed. For example, once the participants of a group buy collectively reach 50 kilowatts (kW) of capacity, everyone gets an additional reduction of the price of their array. An additional reduction of price happens again at the 150 kW mark, and a final reduction happens at 250 kW.
How is a solar installer able to offer lower prices through the program? There are two important factors: strong customer education and an economy of scale. 
Strong Customer Education: Community outreach and education are crucial to program success. MREA, a 501(c)3 nonprofit provides renewable energy training and education, works with local organizations to schedule and facilitate a number of one-hour Solar Power Hours around the community. These events help interested homeowners determine whether solar is right for them. We'll go over the basics of solar, financials, how to tell if your site is ready for solar, and how to participate in Solarize Eau Claire. Getting well-informed participants to the table saves the installer hours and hours of marketing and education they would otherwise have to do themselves, and in turn, saves you money.
Economy of Scale: Just like in a buyers club or co-op, the more people participate, the lower the cost is for the service provider (in this case, a solar installer), and the lower the prices are for participants. Your participation matters, and it always helps when folks talk to their friends and neighbors about the group buy.
ABOUT THE INSTALLER
This section will be updated once we have selected an installer.
The solar installer for this program will be selected through a competitive Request for Proposals in early 2019.
WHAT NEXT?
Now that you've become familiar with how the program works, the next step is to become informed about purchasing solar. Click here to view the schedule for our upcoming Solar Power Hours and updates about the program. We're excited to meet you and get started!