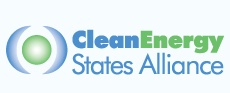 The Internal Revenue Service recently issued a private letter ruling concluding that a particular owner of PV panels in an offsite, community-shared solar array is eligible to take advantage of the 30 percent federal residential income tax credit available under Section 25D of the Internal Revenue Code.
The Clean Energy States Alliance (CESA), in collaboration with stakeholders in Massachusetts and Vermont and attorneys in the Boston office of law firm Foley Hoag, arranged for the submission of the private letter ruling request. While the IRS's ruling is only legally applicable to the individual taxpayer in question, a solar panel owner in Boardman Hill Solar Farm (a member-managed 150 kW off-site solar array in Vermont), the ruling may open up project opportunities for direct ownership of community-shared solar systems by multiple individuals.
Read CESA's full press release on the ruling as well as a set of Frequently Asked Questions here. The private letter ruling and other documents of interest are available on CESA's website here.
CESA will be hosting a free webinar on Tuesday, September 22, from noon to 1 pm CT to discuss the private letter ruling and its legal implications. Webinar details and registration information are available here.