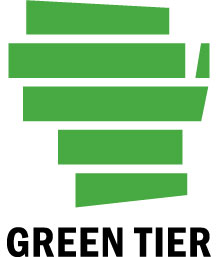 The Green Tier Legacy Community invites your Wisconsin municipality to participate in its quarterly steering committee meeting on Monday, August 31, from noon to 4 pm at the MREA headquarters in Custer. To date, there are 12 Legacy Communities, from Appleton to Eau Claire to Sheboygan.
The day's agenda includes an overview of resources available on GrowSolar.org, tools for local governments to help create viable solar markets, a discussion of PACE solar financing, and a knowledge exchange with Minnesota GreenStep Cities. See the full agenda here, and register today.
Lunch will be provided as well as a tour of MREA's solar‬ and wind‬ energy systems. Visit greentiercommunities.org for to learn more about Green Tier Legacy.