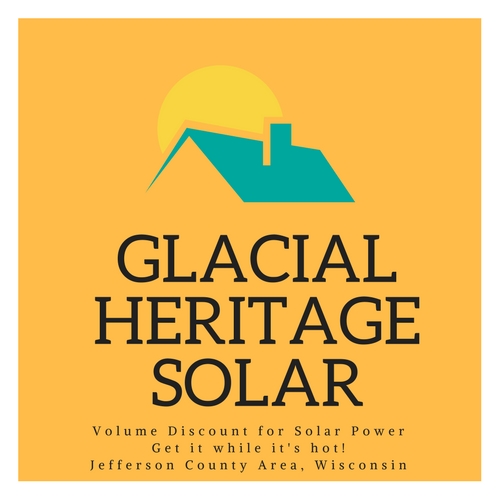 Glacial Heritage Solar is a group purchasing program for residential and commercial solar in the Jefferson County, Wisconsin area.
Offered by Heart of the City, Sustain Jefferson, and the Midwest Renewable Energy Association, property owners throughout Jefferson County, Wisconsin and the Glacial Heritage Area (click here to open map) may participate in this program to pool their buying power and secure significant discounts that make installing solar more affordable.
Start by attending a Solar Power Hour. Our free information session teaches you the basics of solar, its financial implications for your household, and how the solar group buy program works. Then, get a free, no obligation site assessment from our installer. You have until August 31, September 30, 2018 to decide whether to get solar through the program.
UPDATE 9/6/18: We have surpassed our first benchmark of 50 kW. This triggers a $.01/W discount for everyone who goes solar through the program. The next benchmark is 100 kW. All of our Solar Power Hours are over, and if you're ready to schedule a site assessment, you can do so with Full Spectrum Solar's scheduling tool: http://fullspectrumsolar.setmore.com/bookappointment
SOLAR POWER HOURS
(All are free and open to the public!)
4/18/2018 – Wednesday – 6:30 PM Fort Atkinson Club Theater 211 S Water St E, Fort Atkinson
5/1/2018 – Tuesday – 6:30 PM Esker Hall Room 119, UWW Campus Esker Hall, 420 N Prairie St, Whitewater
5/9/2018 – Wednesday – 6:30 PM Palmyra-Eagle School in the Community Room (enter through doors 2 and 3 on the side of the building) 123 Burr Oak St, Palmyra
5/15/2018 – Tuesday – 6:30 PM Johnson Creek High School Room 113 455 Aztalan St, Johnson Creek
5/29/2018 – Tuesday – 6:30 PM Cambridge Public Library 101 Spring Water Alley, Cambridge
6/13/2018 – Wednesday – 6:30 PM Waukesha State Bank of Oconomowoc – Fowler Community Room 1227 Corporate Center Drive, Oconomowoc
6/19/2018 – Tuesday – 6:30 PM Watertown Senior Center 514 S 1st St, Watertown
6/25/2018 – Monday – 6:30 PM Waterloo Karl Junginger Memorial Library 625 N Monroe St, Waterloo
7/10/2018 – Tuesday – 6:30 PM Ixonia Town Hall W1195 Marietta Ave, Ixonia
7/16/2018 – Monday – 6:30 PM L.D. Fargo Public Library 120 E Madison St, Lake Mills
7/30/2018 – Monday – 6:30 PM Dwight Foster Public Library 209 Merchants Ave, Fort Atkinson
8/7/2018 – Tuesday – 6:30 PM Fort Community Credit Union Jefferson Branch – Puerner Room 100 N Main St # 100, Jefferson
BROUGHT TO YOU BY