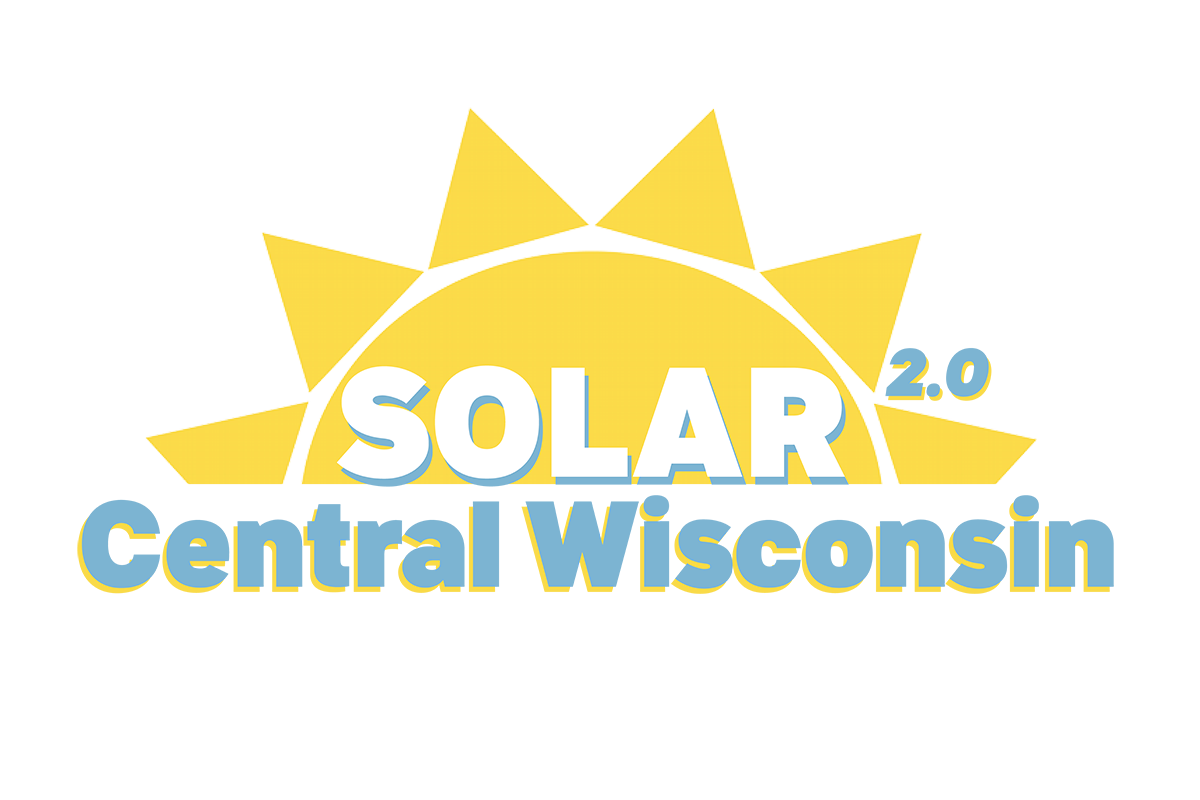 Solar Central Wisconsin 2.0 is a grassroots residential and commercial group purchasing program for solar.

PROGRAM UPDATE:
All participants that go solar through the group buy will now receive a $.10 per watt rebate. This means the average customer will get a rebate check for $500 to $600!
DEADLINE EXTENDED:
Due to growing interest in the program, the deadline has been extended. Participants now have until October 31st to sign up for the program and access discounted prices, rebates, and free site assessment.
CONTACT: ,
---
ATTEND ONE OF THE REMAINING SOLAR POWER HOUR INFORMATION SESSIONS
JOIN & SHARE THE EVENTS ON FACEBOOK (click the links below)
10/10/18 – Wednesday – 6:30 PM Marathon County Public Library
– Wausau Headquarters (Wausau Community Room) 300 1st St, Wausau
---
ABOUT SOLAR CENTRAL WISCONSIN 2.0:
Offered by Mid-State Technical College and the Midwest Renewable Energy Association, homeowners and commercial property owners throughout Marathon, Portage, Waupaca, and Wood counties may participate in this program to help pool their buying power to secure significant discounts that make installing solar more affordable. This program builds on the success of 2017's Solar Central Wisconsin program, which led to 308 kW of solar on 46 properties.
Start by attending a Solar Power Hour, our free information session that teaches you the basics of solar, its financial implications for your household, and how the program works. Then, get a free, no obligation site assessment from our installer.
HELP SPREAD THE WORD: View the Media Kit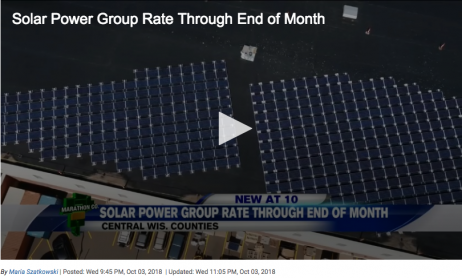 TESTIMONIAL:
"It's been almost a year since our solar system was installed by Northwind Renewable Energy. One of the things that stands out most about our project is the professionalism of the entire team from Northwind. Our questions were answered promptly and always with a tone of respect and appreciation. The installation crew was polite, on-time and gave us regular updates about their progress. The project was completed on time and at the price we contracted. True professionals. The Solar Central Wisconsin Group Buy program and Northwind Renewable Energy have our highest recommendation."
– Greg & Amanda Friese, Stevens Point
2017 Solar Central Wisconsin Group Buy Participants
Solar Power Hour

SM

 Education Sessions
(all are FREE and open to the public):
AUGUST
8/2/18 – Thursday – 6:30 PM T-Dubs Pub (Snug Room) 111 Cooper St, Waupaca
8/7/18 – Tuesday – 4:30 PM Bull's Eye Country Club (Private bar area) 2800 Ridgewood Trail, Wisconsin Rapids
8/10/18 – Friday – 6:30 PM Bull Falls Brewery 901 E Thomas St, Wausau
8/13/18 – Monday – 6:30 PM Blue Heron BrewPub (Parkin Room) 108 W 9th St, Marshfield
8/16/18 – Thursday – 6:30 PM Downtown Grocery (Loft area) 607 Third Street, Wausau
8/20/18 – Monday – 6:30 PM Plover Village Hall (Activity Room) 2400 Post Rd, Plover
8/25/18 – Saturday – 1:45 PM Central Waters Brewing Company 351 Allen St, Amherst
8/29/18 – Wednesday – 6:30 PM McMillan Memorial Library (All Purpose Room) 490 E Grand Ave, Wisconsin Rapids

SEPTEMBER
9/6/18 – Thursday – 12:00 PM Midwest Renewable Energy Association 7558 Deer Rd, Custer
9/8/18 – Saturday – 12:00 PM Mid-State Technical College – Stevens Point (Room CE634) 1001 Center Point Dr, Stevens Point
9/11/18 – Tuesday – 6:30 PM Emy J's Coffee House & Cafe 1009 1st St, Stevens Point
9/15/18 – Saturday – 12:00 PM  Waupaca Area Public Library (Room B) 107 South Main Street, Waupaca
9/17/18 – Monday – 6:30 PM Mid-State Technical College – Wisconsin Rapids (Room T165) 500 32nd St N, Wisconsin Rapids
9/19/18 – Wednesday – 6:30 PM Mission Coffee House 2860 Post Rd, Plover
9/22/18 – Saturday – 2:00 PM Ruby Coffee Roasters 9515 Water St, Amherst Junction
9/24/18 – Monday – 6:30 PM SentryWorld (Community Room) 601 Michigan Ave N, Stevens Point

OCTOBER
10/3/18 – Wednesday – 6:30 PM Sconni's (Private Room) 1239 Schofield Ave, Schofield
10/4/18 – Thursday – 6:00 PM Marathon County Public Library – Mosinee Branch (Mosinee Meeting Room) 123 Main St, Mosinee
10/10/18 – Wednesday – 6:30 PM Marathon County Public Library – Wausau Headquarters (Wausau Community Room) 300 1st St, Wausau
PROGRAM DEADLINE: October 31, 2018
BROUGHT TO YOU BY