About Grow Solar Highland Park-Detroit
Built on Success & Powered by Partnership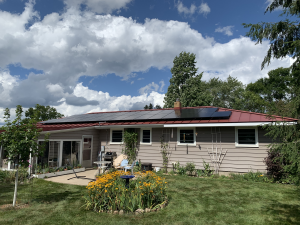 Join a free, virtual Solar Power Hour to learn how you can go solar this year!
What makes our group buys so successful?
Competitive Pricing: The MREA's competitive request for proposals process ensures you a competitive price and the simplicity of working with a single installer. Most individuals receive a price per watt than what is available on the open market. The more people that buy in, the more benchmarks are surpassed, the lower the price becomes. We do recommend that individuals consider all their options before signing a contract to ensure that they are receiving the best price available for their proposed system.
Community Support & Outreach: Our programs are supported by both the leaders and community members of Wayne County, and they're excited and active about spreading the word! Through the help of your jurisdiction leaders and community members, the MREA facilitates a number of one-hour Solar Power Hours for your community. These educational events cover the basics of solar, financials, your property's solar readiness, and how to participate in Grow Solar Highland Park-Detroit.
Limited-time Offering: This deal is only available for a short time! You will have until January 31, 2021 to become a part of the Grow Solar Highland Park-Detroit group buy.
Previous Installer Partners: SEEL LLC & Distributed Power LLC
SEEL LLC and Distributed Power LLC are committed to making community solar and energy resiliency accessible to individuals and families of Highland Park and Detroit.
Headquartered in Detroit, MI, SEEL has an extensive track record over 12 years of direct and relevant energy experience by successfully implementing and project managing more than 30 energy efficiency programs for major utilities (DTE, Consumers Energy, UPPCO, Ameren, etc.), currently operating in six states. SEEL is a certified Minority Business Enterprise as well as a Service-Disabled Veteran Owned Business. SEEL works dedicatedly in diverse, income qualified and underserved communities: educating, capacity building and expanding access and equity to energy efficiency. SEEL is expanding offerings in renewables and energy resiliency through this collaboration with Distributed Power.
Distributed Power (DP) is one of most capable full service solar install companies in Michigan. DP has a strong, skilled and experienced technical team that it brings to this project.  With over 2 MW of solar installed in the last seven years DP has performed both grid and energy resilient systems.  They have a strong market presence in Michigan as it has developed by delivering numerous solar solutions within the cities of Highland Park and Detroit, Michigan.  Additionally, DP services the broader market represented by the states of Michigan, California, Indiana and others. Both SEEL Solar and DP serve the residential and commercial sectors.