About Grow Solar Polk County
Built on Success & Powered by Partnership
The strong partnership between the
Nature Conservancy of Iowa
,
1000 Friends of Iowa
and the 
Midwest Renewable Energy Association
has powered the launch of a successful series of solar group buy program in Iowa. This year, property owners in
Polk County
can take advantage of the group solar education and reduced costs of the Grow Solar Polk County program. Read on for details on how these group buys operate, and to learn about the program's competitively selected installer, 1 Source Solar.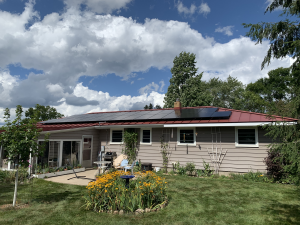 Join a free, virtual Solar Power Hour to learn how you can go solar this year!
What makes our group buys so successful?
Competitive Pricing: The MREA's competitive request for proposals process ensures you a competitive price and the simplicity of working with a single installer. Most individuals receive a price per watt than what is available on the open market. The more people that buy in, the more benchmarks are surpassed, the lower the price becomes. We do recommend that individuals consider all their options before signing a contract to ensure that they are receiving the best price available for their proposed system.
Community Support & Outreach: Our programs are supported by both the leaders and community members of Polk County, and they're excited and active about spreading the word! Through the help of your jurisdiction leaders and community members, the MREA facilitates a number of one-hour Solar Power Hours for your community. These educational events cover the basics of solar, financials, your property's solar readiness, and how to participate in Grow Solar Polk County.
Limited-time Offering: This deal is only available through October 14th, 2022! By including deadlines, the program is able to offer reduced prices.
2023 Program Installer: 1 Source Solar
1 Source Solar is a turnkey, solar energy installer serving agricultural, commercial and residential clients across the state of Iowa. Based in Ankeny, they offer a complimentary site analysis, solar design and engineering services, as well as construction and system monitoring for every type of solar project. In addition to solar arrays, 1 Source Solar offers installation of battery storage and EV charging hardware.
1 Source Solar has worked with previous Grow Solar programs in Iowa, including last year's inaugural Polk County program. After the success of the 2022 program, the company is excited to bring in-depth education and affordable solar options to the residents of Polk County once again.
Check out 1sourcesolar.com for more information on the company and to see photos of completed installations.