Power Hour presentations help interested property owners determine whether the renewable technology being offered in the program is right for them.
The MREA, along with the competitively selected installer, will provide a presentation customized to the program's location. The presentation introduces the MREA, the partner organizations, and the selected installer. It introduces the technology and explains what makes a property suitable for installation. It also introduces the concept of a group buy program, how it works, and dives deeper into the financials while presenting a local case study.
Presentations typically last an hour including 15 minutes of Q&A. These can be either in-person or virtual and each program will have about 12+ Power Hours offered.
Getting well-informed participants to the table saves the  installer hours of marketing and education they would otherwise have to do themselves, and in turn, saves the property owner money. It is our number one way we get our message out to participants.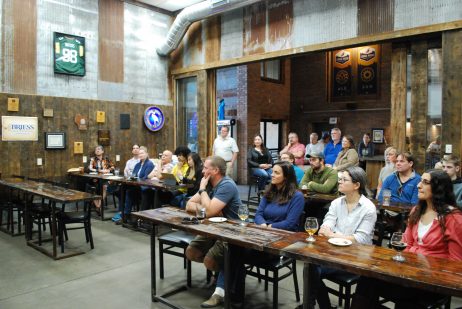 The (Cities and/or Counties) along with partners (Program Partners) and @themrea is proud to offer (@Program Name), a public education and group purchasing program available to any property owner in (X Counties). Register for a free webinar and learn more at (Program website)
Thinking about going (renewable technology)? Attend a Power Hour webinar on Zoom to learn more about the (@Program Name) program, a new initiative that makes going (renewable technology) more accessible and affordable in our community. Come learn about the basics of (renewable technology), its financial benefits, and how the (renewable technology) group buy program works. After the session, you can schedule a free, no-obligation site assessment/cost estimate! (Program website)
(Renewable Technology) is a great way to reduce your energy bills, support the local economy, and help create a healthier environment! Attend an upcoming Power Hour presentation to learn more about (renewable technology) and take advantage of the (@Program Name) group-purchasing program!
(@Program Name) makes going (renewable technology) more affordable by bringing the community together to secure bulk purchasing discounts. Learn if (renewable technology) is right for you and start the journey to lowering your energy bills! (Program website)
(Renewable technology) doesn't have to be expensive! Join an upcoming Power Hour to find out how and if (renewable technology) is right for you. (Program website)
Join a Power Hour, sign up for a free, no obligation site assessment from our competitively selected (renewable technology) installer. Check our website to learn more and sign up: (Program website)
With (renewable technology) you can save money and the Earth at the same time. Join an upcoming Power Hour to start your (renewable technology) journey today. It's a win-win. (Program website)
Red, blue, or whatever opinion you have, we can all believe in saving money. Save your green by going green with (renewable technology). Learn more at: (Program website)
Our favorite renewable technology hashtags: #solarenergy #geothermal #batterystorage #electricvehicle
Our favorite general hashtags: #sustainableliving #savemoneylivebetter #growsolar
Would you like to bring a Group Buy to your community?
We are accepting applications from communities wishing to host Group Buy programs and have begun planning for 2022.
Group Buys cost nothing to the organizations and jurisdictions we partner with except for staff time. Funding for our work comes from grants and from a small administrative fee charged to the selected installer.
MREA has facilitated 42 programs, reaching over 10,000 individuals and resulting in over 14 megawatts of solar on more than 1,900 properties. We will continue to consider applications on an ongoing basis. 
MREA staff will review all applications. Once selections are made, all applicants will be made aware of the outcome. If your application is selected, we will begin the process of developing your local group buy program, including establishing a timeline for the Group Buy in your community, formation of an advisory committee, publication of a competitive request for proposals, development of program brand identity and website, and scheduling of Power Hour presentations. For more information about MREA's group buys or this application please email
Please submit your application through the application form linked to the right. For your convenience and ease of preparation, the application guide makes all the questions available in a Word doc. For more details about program design, timelines, and partner roles, please download the Group Buy Overview. The printable one-page flyer is a brief overview for potential partners.